The affordable electronic crime deterrent for home and business – use alone or as a visible addition to an existing alarm system. WindowGuard™ simulates a high-cost alarm system; it looks so authentic even experienced security personnel have been fooled by it
---
WindowGuard™
WindowGuard™ looks exactly like a hi-tech electronic glass break detector used by professional alarm installers. Self-adhesive WindowGuard™ comes with special alarm warning decals and takes seconds to install – no batteries, no electronic wiring, no tools. Even real alarm systems without visible protection can be improved by WindowGuard™.
See item #WG-04 on the Order Form.
The WindowGuard™ glass breakage sensor set contains: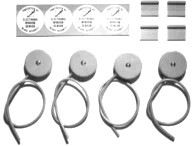 4 window sensors
cables
window decals
Optional cable clips shown are NOT INCLUDED and must be ordered separately as Wire Clips item #WC-04 on the Order Form.
WindowGuard™ creates the illusion of glass breakage sensors, all for the low price of $12.00 per set.
Wire Clips for WindowGuard™
These self-adhesive cable clips hold and conceal the end of the cable in a place out of view from the outside. Use these clips if you do not want to drill holes for WindowGuard™ cables.
See item WC-04 on the Order Form.